Ninth Wormhole in PREVIEWS!
We've got a big announcement for you today.  Potentially very big, but that depends on lots of other factors.  Those aside, here's our big announcement:
STAR POWER & THE NINTH WORMHOLE is going to be listed in the May issue of PREVIEWS, which comes out tomorrow!
PREVIEWS is essentially the comic book catalog.  It's where comic shop retailers shop for what they want to stock in their stores.  That means STAR POWER & THE NINTH WORMHOLE will potentially be appearing in stores!  But that will only happen if retailers are interested in ordering it!  We think our first book looks good enough that retailers will want it, but we could use your help.
Do you frequent a comic book shop that you think would benefit from carrying a STAR POWER book?  Go in there and ask them to order some copies of THE NINTH WORMHOLE!  Tell them why you like it and why you think others would, too.  And while you're at it, pick up a copy of PREVIEWS for yourself to see us listed there!  We're running a slick ad featuring some very nice words from some very good friends (who are more famous than us)!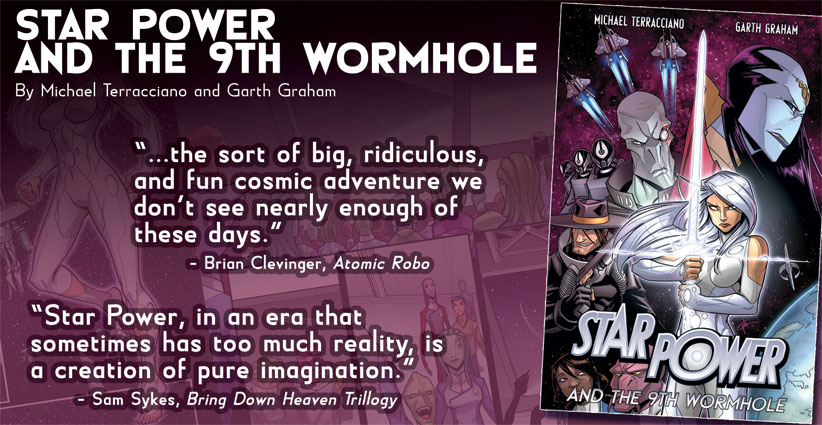 You may ask why we're only listing THE NINTH WORMHOLE instead of all four of our books, and the answer is simple marketing.  You folks may know us and like us, but lots of retailers don't know us yet.  If they're going to take a chance on a new series by independent creators (who aren't backed by Warner Bros. or Disney funding) they aren't going to order four different books.  They're going to see how well the first book sells, and that will gauge their interest in ordering future books.  We do plan to list all four (soon five!) books through Previews, but in these first stages it's best to play it safe, for everyone involved.
This is an exciting step forward for STAR POWER and we couldn't have come this far without you.  We hope you'll be with us on this next leg of our journey.