Rushed creativity.
Yesterday, I joined my troupe-mates in The Slaughterhouse Sweethearts for an attempted photoshoot.  This was among the pictures we managed to capture.  It was a glorious train wreck.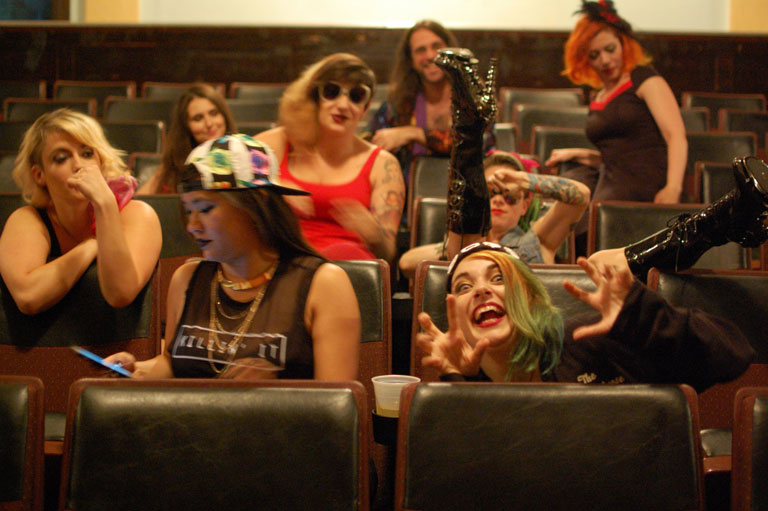 There were a number of factors working against us.  Our scheduled time in the location was pushed ahead at the last moment, so everyone had to drop everything to get there on time.  Our allotted time to shoot was so brief that there was no warm-up time, no getting accustomed to the space, no chance to explore ideas.  It was "Go! Go! Go!" from the start.  I was the photographer!  Normally I'm very comfortable taking photos, but I had to be included in these group shots (since I'm a member of the troupe) so I had my camera set to shoot via a remote control.  That remote was unreliable at best, and in many of the photos it's very clear that I'm pointing it right at the camera to take the shot.  We finally managed to get some semi-decent shots, but the above photo speaks volumes of yesterday's experience.
I discovered that, for me, creativity does not work on that tight of a schedule.  When I have no opportunity to get into a comfortable head-space to brainstorm, experiment, retry or revise, everything feels rushed and forced.  I think my troupe-mates felt the same way, so future photoshoots will have to be scheduled in a more reliable locale and we'll have to give ourselves more time to warm up first.
The creative process is weird and wonderful.  Finding out what doesn't work is as valuable a lesson as discovering what works for you.