Return of the Revenge 2!
With REVENGE OF THE ROBOT BATTLE NUNS returning to the Oberon stage tomorrow(!), I've been going over my lines relentlessly.  It's a story show that relies heavily on narration to carry the plot from one dance number to another.  I am by no means the main attraction, but I feel I have a vital role in the show's structure.  A good host, or narrator in my case, sets the tone for each dance and keeps the audience engaged while the stage is set between performances.  It's a tougher job than it sounds, even if you're reciting lines instead of ad-libbing, but it's an exciting experience.  But perhaps I'm biased because I love being in front of a crowd.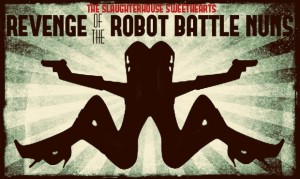 Writing the script over the years with the troupe's founder, Fem Bones, has been an exciting experience as well.  It's not quite the same as collaborating with Garth here on Star Power, where the script bounces back and forth between us until ideas take shape, sometimes in ways that neither of us anticipated.  REVENGE OF THE ROBOT BATTLE NUNS is very much Fem Bones's story, and as the show's creator and producer she has final word over any script changes.  She's had a clear vision of where she wants the story to go and how she's wanted it to change from year-to-year, and it's been my job to give her vision the right words and direction so our audience enjoys their ride to the story's epic conclusion.
It's an interesting mix between "collaborator" and "hired set of hands."  It's not at all like the arrangement that Garth and I have here on Star Power, but it isn't supposed to be.  It's not the host's job to have his name written in blazing letters on the program, "Story written by me!"  It's the host's job to help make everyone else look amazing and provide any given show with a clear direction.  People don't board a ship to admire the anchor, but without it there would be aimless drifting.